Steritest Symbio Pumps
Model : Steritest™ Symbio Pumps | Category : Sterility Testing | Brand : Merck Millipore
Steritest™ Symbio Pumps
Designed to integrate perfectly into all testing environments, streamlining your workflow, maximizing safety and convenience.


When Millipore invented the Steritest™ closed filtration device 40 years ago, we made sterility testing reliable. Today we are making it easy, with our new
Steritest™ Symbio Pumps
for sterility testing.
The
compact design and air-tight housing
of new Steritest™ Symbio Pumps for sterility testing ensure easy handling in laminar flow hoods, isolators and clean rooms. With the pump's low height and ergonomic design, the loading with Steritest™ EZ filtration units is extremely easy. The automatic closure eliminates the risk of glove pinching and ensures reliable splitting of the liquid sample.
You can also adjust
the height and angular position of the bottle holder.
Another important feature is the
drain tray
, which we designed to minimize splashing under the canister base.
Two pressure detection modes
- including automatic pumping speed reduction - alert the operator, reducing the risk of sterility test interruption and minimizing the stress on microorganisms.
Steritest™ Symbio Software
- a user-friendly PC software - helps to ensure sterility test reproducibility. Once the test methods library has been created, you can easily transfer the selected test method to your pump.
The
new color user interface
assists the operator to perform the sterility test step by step. Information is available in 8 languages (Simplified Chinese, English, French, German, Italian, Japanese, Portuguese or Spanish).
The following range of Steritest™ Symbio Pumps for sterility testing is available:
Steritest™ Symbio LFH
Reduced pump height for easy tube loading behind a laminar flow hood window
Clean room-friendly hardware: air-tight housing and passive cooling prevent particle emission
Its unique profile, compatible with both vertical and horizontal flows, prevents undesirable air turbulence, eliminating the risk of false positives
Steritest™ Symbio ISL for usage in isolators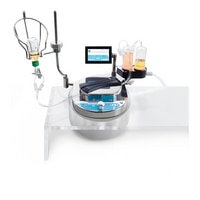 Very compact pump, frees work space and loading capacity in isolators
Perfect replacement of existing/former/current pumps without isolator table rework
Buttons designed to be operated with isolator gloves
Easy to clean and resistant to gas decontamination in isolators
Steritest™ Symbio FLEX
Perfect replacement of Steritest™ Isofit pumps without isolator table rework
Compact pump, frees working space and loading capacity in isolators
Versatile: 2 installation heights possible in standard or half suit isolators, also compatible with laminar flow hoods
Support and Services
Merck Millipore provides technical support and a comprehensive services offering to help you save your QC resources and facilitate the implementation of your Steritest™ Symbio Flex into your daily testing routine. Our highly experimented teams are there to assist you.
For further information, please visit:
You can also contact your local sales representative.
Steritest™ Symbio LFH
Pump equipped with accessories
Pump body alone
Width
628 mm (24.7 in.)
333 mm (13.1 in.)
Depth
372 mm (14.6 in.)
372 mm (14.6 in.)
Height
410 mm (16.1 in.)
272 mm (10.7 in.)
Pump head height
158 mm (6.2 in.)
158 mm (6.2 in.)
Weight
15.8 kg (34.8 lb)
14.2 kg (31.3 lb)
Steritest™ Symbio ISL
Pump equipped with accessories
Pump body alone
Width
583 mm (22.9 in.)
234 mm (9.2 in.)
Depth
313 mm (12.3 iin.)
313 mm (12.3 iin.)313 mm (12.3 iin.)
Height
354 mm (13.9in.)
185 mm (7.3 in.)
Pump head height
81 mm (3.2 in.)
81 mm (3.2 in)
Weight
19.2 kg (42.3 lb)
17.6 kg (38.8 lb)
Performance Specifications
Rotation speed
up to 240 rpm
Timer
from 0.5 to 999
Materials of Construction
Component
Materials of Construction
Pump housing
316L Stainless steel
Pump housing seal (LFH version)
Silicone foam
Pump housing flat seal (ISL version)
Silicone foam
Pump housing fastening screws
A2 Stainless steel
Pump head protective cover housing
316L Stainless steel
Pump head protective cover tubing guide
Polyphenylsulfone (PPSU)
Pump head protective cover guiding slit
Polytetrafluoroethylene (PTFE)
Pump head
316L Stainless steel
Seal plate (closing system seal)
Polyoxymethylene (POM)
Pump handles / Pump supports for drain tray and bottle holder
316L Stainless steel
Screen window
Toughened glass
Screen housing
316L Stainless steel
Screen housing seals
Ethylene propylene diene monomer (EPDM) and Fluoropolymer elastomer
Screen seal
Silicone
Pump control panel / key pad
Polyester
Rotary control knob
316L Stainless steel
Rotary control knob seals
Ethylene propylene diene monomer (EPDM)
Pump power connector
Polysulfone (PSU)
Pump feet (LFH version)
Polyvinyl Chloride (PVC)
Pump feet screws (LFH version)
A2 Stainless steel
Drain tray
Drain tray container
Polyphenylsulfone (PPSU)
Drain tray support
316L Stainless steel
Drain tray support seal
Ethylene propylene diene monomer (EPDM)
Bottle holder
Bottle holder support rod
316L Stainless steel
Bottle holder basket
316L Stainless steel
Bottle holder fastening system seal
Polyphenylsulfone (PPSU)
Communication hub
Housing
316L Stainless steel with epoxy paint
Feet
Nylon+EVA
USB port
Brass Nickel plated+ PBT
Fuse holder
Thermoplastic+Tin-Plated Copper Alloy
Ethernet port
Brass Nickel plated+ PBT
Communication ports
Brass Nickel plated+ PBT
Power connector
Nylon
Pump connection cable
PVC
Pump connection cable grommet
Nickel plated brass
Electrical Specifications
Power supply voltage
100 to 240 Volt AC, 50/60 Hz
Input to pump
24 Volt DC, 150 Watt
Operating Requirements
Ambient temperature
15 to 40 °C
Relative humidity
< 90%
Altitude
< 3000 meters (9842 feet)
Canister style
compatible with all Steritest™, Sterisolutest®, Steridilutor and EZ version